Our commitment to open science spans our entire publication portfolio. We publish a portfolio of Open Access journals, and our Author Select option enables authors to make their paper open access in all our other titles.
Maximizing the value and reuse of the results of scientific research, AIP Publishing's growing list of peer-reviewed Open Access journals includes: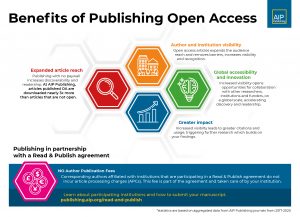 Making Articles Publicly Accessible After Publication
AIP Publishing, through participation in the CHORUS initiative, makes publicly available the Accepted Manuscript version of an article in response to government or funder requirements 12 months after publication. Accepted Manuscripts are licensed under AIP Publishing's License to Publish Agreement, unless otherwise mandated and indicated in the article.
Scholarly collaboration networks (SCNs) are rapidly growing as an avenue to share scholarly information. We understand that researchers are constantly looking for ways to make meaningful professional connections with the ability share their research and data. AIP Publishing supports the voluntary principles for article sharing on these websites and allows accepted versions of the manuscript to be posted and distributed immediately.