Plasma Sources for Advanced Semiconductor Applications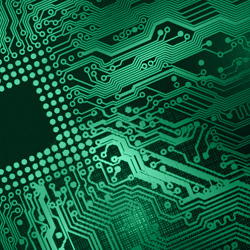 Plasma sources are essential tools for advanced semiconductor and computation technologies. Laser-produced plasma powers state-of-the-art nanolithography by generating the required extreme-ultraviolet (EUV) light. Remarkable reduction of feature-sizes in modern semiconductors is a major theme for semiconductor manufacturing where features are approaching nanometers and often involve 3D structures. Predicting, modeling, and high-resolution measurements of plasma properties of advanced plasma sources are at the forefront of research for many advanced industrial applications.
This Joint Special Topic Collection in Applied Physics Letters and Physics of Plasmas welcomes new submissions reporting new research results and perspectives in the field of plasma sources and their many important applications to semiconductor and computational technologies.
Authors are welcome to submit letter manuscripts to Applied Physics Letters and longer, regular articles to Physics of Plasmas. The Editorial Policies for these journals, including publication standards and review procedures, can be found here: Applied Physics Letters Editorial Policies and Physics of Plasmas Editorial Policies. Perspective papers are welcome at either journal.
Topics covered include, but are not limited to:
Production and effects of extreme ultraviolet (EUV) light in discharge and laser-produced environment for nanolithography
New development in plasma sources for semiconductor processing for atomic layer etching (ALE) and atomic layer deposition (ALD)
Novel plasma and surface diagnostics for processing plasma
Advanced control methods of plasma sources for semiconductor processing including machine learning algorithm
Validated predictive modeling of plasma source operation
Innovative manufacturing for quantum technology applications
Plasma processes for 2D materials fabrication
---
Guest Editors
Oscar Versolato, ARCNL/Vrije Universiteit Amsterdam, The Netherlands
Ronnie Hoekstra, ARCNL/Rijksuniversiteit Groningen, The Netherlands
John Sheil, ARCNL/Vrije Universiteit Amsterdam, The Netherlands
Igor Kaganovich, Princeton Plasma Physics Laboratory, USA
Thorsten Lill, Lam Research, USA
Kallol Bera, Applied Materials Inc., USA
Sang Ki Nam, Samsung Electronics, South Korea
Hyo-Chang Lee, Korea Aerospace University, South Korea
APL Editors
Maria Antonietta Loi, University of Groningen, Groningen, Netherlands