3D Smart Oxide Nanomaterials for Future Advanced Technologies
Submission Deadline: April 30, 2023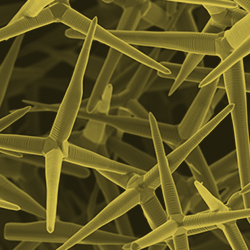 Nanoscale structures exhibit excellent physical, chemical, catalytical and mechanical properties, mainly due to their very high surface contributions at very small length scales in nanoscopic dimensions. Nanoscale structures from different materials have been successfully grown using various methods and their structure-property relationships have also been understood up to some extent using state-of-the-techniques. Despite of the huge research effort, the versatile use of nanostructures in day-to-day technologies is limited. The nanoscale structures involve complex handling and integration processes with respect to their utilizations in real applications. Appropriate surface accessibility, wide and unique utilization, and cost-effectiveness are the main challenges to this front.
Nanostructures of oxide materials with complex shapes, tetrapods, multipods, flowers, seaurchins, etc. hold the potentials to bridge this gap by their unique self-assembling ability. Irrespective of how they placed together, these complex shaped oxide nanostructures building blocks could be constructed into three-dimensional (3D) porous interconnected network. Such a highly porous 3D architecture offers easy accessibility of nanoscopic surface while being structurally intact, and at the same time simple to utilize. Furthermore, external elements and nanostructures could be integrated into the regime, to achieve much enriched functionalities. The 3D architectured oxide materials in hybrid form bring in new scopes towards understanding new fundamental structure-property relationships and at the same time open the door to many advanced technologies, such as, mechanics, photonics, plasmonics, nanoelectronics, sensing, and other technologies.
The special issue will cover:
(i) The development of new class of 3D nanomaterials,
(ii) The understanding the structure-property relationships,
Various applications.
The exploration of surfaces, interfaces, nanostructures and thin films using:
Nanotechnology
Nanowires
3D Nanomaterials
Porous Materials
Fabrication
Structure-property Relationship
Applications
---
Guest Editors
Prof. Yogendra Kumar Mishra, University of Southern Denmark, Sønderborg, Denmark
Prof. Yanqiu Zhu, University of Exeter, UK,
Prof. Richard Fu, Northumbria University, New Castle, UK,
---
Submission Instructions:
Manuscripts should be no more than 25 pages of A4 paper (including figures and tables). Text should be printed on one side only and be double-spaced. Interested authors are welcome to email their tentative titles and abstracts to nanope@tju.edu.cn. Full electronic manuscripts (MS-Word, or PDF file) should be submitted via the NPE online system; please select 'Special Issue on Microscale acoustofluidics and lab-on-chip'. All manuscripts must be prepared using the Guide for Authors and will be reviewed by at least two referees.
Submission Deadline: April 30, 2023