Light-matter Interaction at the Nano and Molecular Scale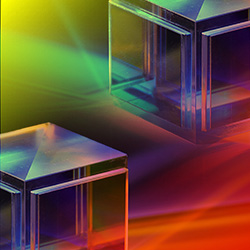 Light-matter interaction is an old yet continuously fascinating topic. It is of direct relevance to applications as diverse as solar energy conversion, light-emitting devices, biomedical imaging and quantum information processing. Recent advances in materials and chemistry have allowed exquisite control over this interaction at the nano and molecular level, and newly-developed spectroscopic tools are being applied to elucidate the interaction mechanisms with unprecedentedly high temporal and spatial precision. This special issue collects the latest cutting-edge research under this broad context, contributed by both experimentalists and theoreticians, with a special focus on those from Asia.
Topics covered include, but are not limited to:
Light-matter interaction
Nanomaterials
Functional molecules
Time-resolved spectroscopy
Imaging methods
Solar energy conversion
Light-emitting devices
Excitons
Polarons
Polaritons
---
Guest Editors
Kaifeng Wu, Dalian Institute of Chemical Physics
Shengye Jin, Dalian Institute of Chemical Physics
Hirendra Ghosh, Bhabha Atomic Research Center
Akihiro Furube, Tokushima University
Chunfeng Zhang, Nanjing University
Xinfeng Liu, National Center for Nanoscience and Technology
JCP Editors
Tim Lian, Emory University
Renee Frontiera, University of Minnesota
Mischa Bonn, Max-Planck Institute for Polymer Research
Jennifer Ogilvie, University of Michigan
Qiang Shi, Chinese Academy of Sciences
Jun Cheng, Xiamen University
---
More information:
Please note that papers will be published as normal when they are ready in a regular issue of the journal and will populate on a virtual collection page within a few days of publication. Inclusion in the collection will not cause delay in publication.
---
How to Submit:
Please submit through the online submission system.
Under manuscript type → select Article or Communication, as appropriate
Under manuscript information → Manuscript classification → select Special Topic: "Light-matter Interaction at the Nano and Molecular Scale"