Flexible and Smart Electronics
Submission Deadline: December 31, 2022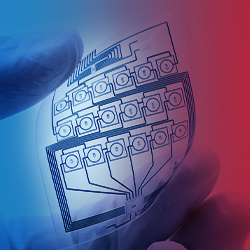 Flexible electronics is emerging as a highly interdisciplinary and disruptive technology that has been drawing significant attention from multiple fields. It mainly means depositing organic, inorganic, and organic-inorganic composite materials on flexible substrates to form electronic components and their integrated systems. Apparently, flexible electronics surpass classical electronic systems in the ability to retain performance under various kinds of mechanical deformations, thus exhibiting potential in achieving flexible, stretchable, deformable, portable, lightweight, and wearable electronic devices such as organic light-emitting diodes, organic photovoltaics, organic field-effect transistors, organic semiconductor lasers, bioelectronics, sensors, energy storage and conversion devices, etc. The progress in this field is of great significance for making electronics "smart." Specifically, it will promote advanced materials science and technology and the design and integration of electronic devices in the post-Moorish era, leading to revolutions in the electronic industry and a paradigm shift in healthcare technologies, etc.
Topics covered include, but are not limited to:
Fundamentals of flexible materials and devices
Advanced materials and manufacturing for flexible and stretchable electronics
Wearable/implantable bioelectronic devices and their applications
Flexible sensors and actuators
Flexible electronics for energy harvesting and storage
---
Applied Physics Reviews Editor
Fengxia Geng, Soochow University
Guest Editors
Wei Huang, Northwestern Polytechnical University
Wei Gao, California Institute of Technology
Wen-Yong Lai, Nanjing University of Posts & Telecommunications
---
About the Journal
Applied Physics Reviews (APR) features articles on important and current topics in experimental or theoretical research in applied physics or applications of physics to other branches of science and engineering. APR publishes the following types of articles:
Original Research: An article reporting on an important and novel research study of high quality and general interest to the applied physics community.
Reviews: This type of article can either be an authoritative, comprehensive review of established areas of applied physics, or a short timely review of recent advances in established fields or new and emerging areas of applied physics.
---
Manuscripts considered for publications in Applied Physics Reviews are expected to meet the journal's standard of acceptance, i.e. to report on original and timely results that advance understanding in the current status of applied physics. Manuscripts submitted for consideration in this Special Topic must meet the same criteria and will undergo the journal's standard peer review process. The Applied Physics Reviews Editor's Team will issue a final decision on the submitted manuscripts.
Manuscripts must be submitted through Applied Physics Reviews online submission system (PXP). Please select the Special Topic "Flexible and Smart Electronics" to submit your manuscript for consideration in this Special Topic.
Submission Deadline: December 31, 2022