Large Scale Quantum Detectors
Submission Deadline: September 8, 2023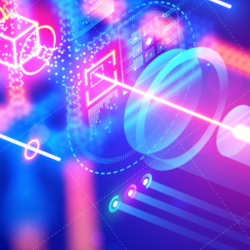 This collection welcomes experimental and theoretical papers exploring detectors using quantum technology to explore aspects of fundamental physics such as gravitation, gravitational waves, extensions of the Standard Model, dark matter and dark energy. It will emphasize the developing international landscape of large-scale atom interferometers in support of the workshop on Terrestrial Very-Long-Baseline Atom Interferometry. Other topics are the detection of dark matter candidates based on interactions with quantum materials and devices that could help constrain or set new limits on the types of dark matter candidates (especially "wave-like" candidates) and their interaction mechanisms and coupling strengths with conventional matter. The collection may also include some contributions on related or complementary approaches (such as those based on superfluids and Bose condensates), and broader discussions on the applications of novel quantum devices for precision or sensitive measurements for nuclear/particle physics, astrophysics/cosmology and other fundamental physics investigations.
Topics covered include, but are not limited to:
Large scale atom interferometers
Dark matter
Gravitational waves
---
Guest Editor:
John Ellis, CERN and King's College London
Oliver Buchmueller, CERN and Imperial College London
---
Submission Instructions
AVS Quantum Science accepts Original Research, Reviews, and Perspectives. If you would like feedback on a potential manuscript before it is written, please complete the relevant Editorial Summary Intake Form, and email it to the Editorial team (AVSQuantumScience@aip.org). The Editorial Summary Intake Form establishes working relationships between the editors and authors as well as ensures submitted papers are within desired scope, quality, and diversity we aim to achieve.
Please prepare your manuscript using the information found on our website in the For Authors tab: https://avs.scitation.org/aqs/authors/manuscript. You must submit your paper using the AQS online submission system at https://aqs.peerx-press.org/. For additional questions, please email the team at AVSQuantumScience@aip.org.
Submission Deadline: September 8, 2023