Bingqing Cheng and Katrin Erath-Dulitz commended for developing machine learning to predict material properties and studying the quantum nature of chemical reactions.
MELVILLE, N.Y., April 11, 2023 — The Journal of Chemical Physics (JCP) is pleased to announce Bingqing Cheng and Katrin Erath-Dulitz as the 2022 winners of the JCP Best Paper by an Emerging Investigator Awards.
Cheng was selected for research that exploits machine learning to understand and predict material properties. Erath-Dulitz was recognized for developing a method that controllably prepares chemical reactions to explore their quantum nature.
The winners will receive a $2,000 honorarium and are invited to write a perspective article for JCP. They were selected from a pool of papers in the 2022 JCP Emerging Investigators Special Collection by a committee composed of Editorial Advisory Board Members. The special collection is intended to be a recognition of excellence in itself, as it has a higher standard for acceptance than the journal.
Submissions for the 2023 JCP Emerging Investigators Special Collection are now open. To qualify for the award, the principal investigator must be within 10 years of their graduate degree graduation date.
Bingqing Cheng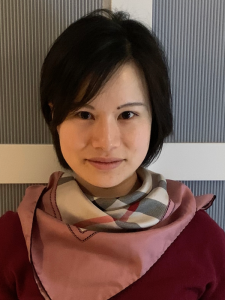 Bingqing Cheng was recognized for her paper, "Computing chemical potentials of solutions from structure factors," published in JCP on Sept. 30, 2022.
Chemical potentials are fundamental and important for understanding and predicting material properties, but they are often difficult to compute. Cheng developed a method to extract chemical potentials from equilibrium molecular dynamics simulations. By running a standard simulation for a liquid, the technique allows researchers to determine chemical potentials as a simple post-processing step.
"Chemical potentials underlie many physical phenomena including mixing, transport, osmosis, and solvation," said JCP Editor-in-Chief Tim Lian. "The reported method solves a long-standing challenge and will likely be widely used in the field."
Cheng, currently an assistant professor at the Institute of Science and Technology (IST) Austria, became a scientist because she wanted to have a lifelong learning experience. She obtained her PhD in Materials Science from the Swiss Federal Institute of Technology Lausanne in 2019, after which she was a junior research fellow at Trinity College, University of Cambridge.
"This award means a lot to me," said Cheng. "I enjoy method development, and JCP is my go-to journal for method papers in my field (atomistic simulations). I hope the method introduced in the paper will be widely used in the community."
At IST Austria, Cheng aims to exploit machine learning methods to extend the scope of atomistic simulations.
"My field is focused on computational chemistry and materials science," she said. "The mission is to predict properties using computation, and the 'holy grail' is to develop tools to extend the capability of simulations."
Looking forward, Cheng plans to compute adsorption curves of liquids in porous media, such as carbon dioxide in metal organic frameworks.
Katrin Erath-Dulitz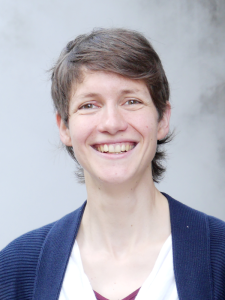 Katrin Erath-Dulitz was selected for her paper, "Spin-state-controlled chemi-ionization reactions between metastable helium atoms and ground-state lithium atoms," published in JCP on March 21, 2022.
Studying chemical reactions in a regime dominated by quantum effects is essential for understanding the fundamental reaction mechanisms at play and chemical evolution in space.
"The goal of my research work is to understand the quantum nature of chemical reactions by preparing them in well-defined quantum states and by cooling them to low energies," said Erath-Dulitz. "This field is called cold and controlled chemistry."
In her winning paper, Erath-Dulitz uses laser radiation to manipulate the rate of chemical reactions between lithium and excited helium atoms.
"This study is a beautiful experimental demonstration of using spin states of reactants to control chemical reaction rates," said JCP Editor-in-Chief Tim Lian. "It will have potential applications in multiple fields of science, including in cold molecules and quantum information science."
Erath-Dulitz is currently an assistant professor of physics at the Institute of Ion Physics and Applied Physics, Universität Innsbruck. She was always fascinated by the wonders of nature, and her curiosity about the gas phase and fundamental reactions persisted throughout the years. After earning her PhD at the University of Oxford in 2015, she completed a postdoctoral fellowship at ETH Zurich. Erath-Dulitz continued her research at the University of Freiburg and the Fraunhofer Institute for Solar Energy Systems before moving to Innsbruck.
In the future, Erath-Dulitz plans to explore controlling chemical reactions that involve cold charged atoms and molecules.
"Receiving this award is a great confirmation of the quality of our research work and that we are on a good track," she said.
###
ABOUT THE JOURNAL
The Journal of Chemical Physics is an international journal that publishes cutting edge research in all areas of modern physical chemistry and chemical physics. See https://aip.scitation.org/journal/jcp.
ABOUT AIP PUBLISHING
AIP Publishing's mission is to advance, promote, and serve the physical sciences for the benefit of humanity by breaking barriers to open, equitable research communication and empowering researchers to accelerate global progress. AIP Publishing is a wholly owned not-for-profit subsidiary of the American Institute of Physics (AIP) and supports the charitable, scientific, and educational purposes of AIP through scholarly publishing activities on its behalf and on behalf of our publishing partners.
###
Contact:
Rob Press
rpress@aip.org
(516) 576-2456