Melville, NY, January 15, 2019 – AIP Publishing a leading not-for-profit scholarly publisher in the physical sciences, is pleased to announce the appointment of Leslie Yeo, Distinguished Professor of Chemical Engineering at the Royal Melbourne Institute of Technology (RMIT) in Melbourne, Australia, as Editor-in-Chief of Biomicrofluidics (BMF). BMF is an online-only journal that rapidly disseminates high-quality, original research in the interdisciplinary field of microfluidics and nanofluidics.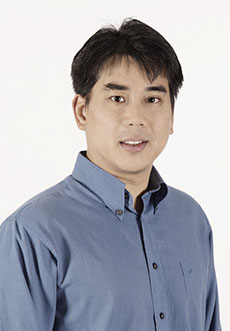 "We are delighted to welcome Leslie Yeo in his new role as Editor-in-Chief for Biomicrofluidics," said Jason Wilde, Ph.D., AIP Publishing's Chief Publishing Officer. "Leslie has served for many years as co-editor and we share his vision for broadening the journal's reach and impact by publishing novel, cutting-edge research that is not just a demonstration of microfluidic technology but also provides new fundamental physical, chemical or biological insight," he continued.
Prof. Yeo added, "We intend to strengthen Biomicrofluidics' leadership, not just from a metrics perspective, but also as the outlet for the best work in micro/nanofluidics and physiological/biological transport across the entire spectrum of fundamental to applied science and technology research. A top priority will be to engage with contributors and readers across engineering, physics, chemistry, biology, biotechnology, pharmacy and pharmaceutical science and medicine to learn how BMF can better support their research and define specific challenges unique to the interdisciplinary field of biomicrofluidics."
As Director of the Micro/Nanomedical Research Centre and a former Australian Research Council Future Fellow at RMIT, Prof. Yeo's current research interests are in acoustically and electrokinetically driven microfluidics for engineering and biological applications such as drug delivery and nanomedicine, point-of-care diagnostics, tissue engineering and biosensor technology. Previously, he was on the faculty at the Department of Mechanical & Aerospace Engineering at Monash University, did his postdoctoral work at the Center for Microfluidics and Medical Diagnostics, University of Notre Dame, and worked in industry at Det Norske Veritas. His PhD research involved the theoretical investigation of Marangoni (surface tension gradient) driven drop coalescence dynamics and how it relates to phase inversion of liquid-liquid dispersions and was supported by two awards, the Universities UK Overseas Research Scholarship and University of London Knight Studentship in Science & Engineering.
Dr. Yeo is the recipient of the Dudley Newitt Prize "for a theoretical/computational thesis of outstanding merit," the 2007 Young Tall Poppy Science Award from the Australian Institute for Policy & Science "in recognition of the achievements of outstanding young researchers in the sciences including physical, biomedical, applied sciences, engineering and technology," and several Dean's and Vice-Chancellor's research and innovation awards. In 2016, he won the Johnson & Johnson JLABS World Without Disease Quickfire Challenge Award. He is co-author of Electrokinetically Driven Microfluidics and Nanofluidics (Cambridge University Press), and currently serves on the Scientific Reports and Interfacial Phenomena & Heat Transfer editorial boards.
Biomicrofluidics is part of AIP Publishing's portfolio which includes Applied Physics Letters, Journal of Applied Physics, AIP Conference Proceedings, and other community focused peer-reviewed journals, its flagship magazine Physics Today, and Scilight, a weekly publication highlighting the most interesting new research in the physical sciences. AIPP partners with 10 scholarly societies, providing the full suite of publishing services, from manuscript submission to online hosting.
About AIP Publishing
AIP Publishing is a wholly owned not-for-profit subsidiary of the American Institute of Physics (AIP). AIP Publishing's mission is to support the charitable, scientific and educational purposes of AIP through scholarly publishing activities in the fields of the physical and related sciences on its own behalf and on behalf of our publishing partners to help them proactively advance their missions.