Melville, NY, February 26, 2016 – AIP Publishing, one of the world's leading not-for-profit scholarly publishers in the physical sciences, today announced the appointment of Jürgen Kurths, Ph.D., Dr. habil, Potsdam Institute for Climate Impact Research and Humboldt-University of Berlin, Germany, as the new Editor-in-Chief of Chaos, effective January 2016.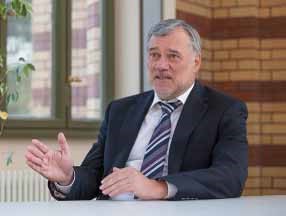 "Over the past 25 years, founding Editor-in-Chief David K. Campbell has established Chaos as the dedicated home for the publication of groundbreaking work in nonlinear science. I am honored to follow in his footsteps and will continue to build upon his accomplishments as our field continues to evolve," commented Prof. Kurths.
Jürgen Kurths studied mathematics at the University of Rostock and earned his Ph.D. in 1983 at the German Democratic Republic Academy of Sciences. He returned to the University of Rostock to earn his Dr. habil. in theoretical physics in 1991. He is Professor of Nonlinear Dynamics at the Humboldt University, Berlin, and chair of the Transdisciplinary Concepts research domain at the Potsdam Institute for Climate Impact Research. In 2009 he was appointed to a sixth century chair at the Institute for Complex Systems and Mathematical Biology at Kings College of Aberdeen University (UK). Affiliated with many professional organizations, Prof. Kurths is the recipient of numerous prestigious awards including the Alexander von Humboldt Research Award and the L.F. Richardson Medal of the European Geosciences Union. He is the recipient of two Honorary Doctorates, was named an Honorary Professor by the University of Potsdam and is a member of the Academia Europaea and Fellow of the American Physical Society.
Prof. Kurths brings extensive publishing experience to his new role, both as an author and an editor. With an H-index of 71, he has published more than 600 papers in peer-reviewed journals and two monographs, which have been cited more than 26,000 times.
"AIP Publishing is delighted that Jürgen Kurths is taking on the leadership of Chaos," stated John Haynes, CEO of AIP Publishing. "Professor Kurths has precisely the right credentials to follow in the footsteps of his predecessor, David K. Campbell (Boston University), the visionary instrumental in launching Chaos in 1991. I would like to take this opportunity to thank Professor Campbell, the editorial board, and the authors, reviewers, and readers throughout the international community of nonlinear scientists whose contributions will continue to strengthen this publication under the editorship of Professor Kurths."
About Chaos
Chaos: An Interdisciplinary Journal of Nonlinear Science is a peer-reviewed journal devoted to increasing the understanding of nonlinear phenomena. The journal is committed to publishing selective and high quality content that is accessible to researchers from a broad spectrum of disciplines. Topics cover nonlinear dynamical systems, neural networks and neuro-dynamics, climate and earth sciences, condensed matter, fluid dynamics, synchronization, turbulence, solitons and coherent structures, time-series analysis, and more. For more information about Chaos and Prof. Kurths, visit: chaos.aip.org.
About AIP Publishing
AIP Publishing is a wholly owned not-for-profit subsidiary of the American Institute of Physics (AIP). AIP Publishing's mission is to support the charitable, scientific and educational purposes of AIP through scholarly publishing activities in the fields of the physical and related sciences on its own behalf, on behalf of Member Societies of AIP, and on behalf of other publishing partners to help them proactively advance their missions. AIP Publishing's portfolio comprises 19 highly regarded, peer-reviewed journals, including the flagship journals Applied Physics Letters, Journal of Applied Physics, and The Journal of Chemical Physics, in addition to the AIP Conference Proceedings. See publishing.aip.org
About the American Institute of Physics
American Institute of Physics (AIP) is a federation of ten scientific societies in the physical sciences (for a full list of Member Societies, see: https://www.aip.org/member-societies). As a charitable organization (a 501(c)(3) under the US tax code), AIP offers authoritative information, services, and expertise in physics education and student programs, science communication, government relations, career services for science and engineering professionals, statistical research in physics employment and education, industrial outreach, and history of the physical sciences. AIP publishes Physics Today, the most closely followed magazine of the physical sciences community. See aip.org