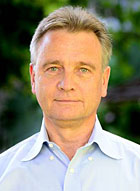 Melville, NY, June 24, 2014 – AIP Publishing and Journal of Applied Physics are pleased to announce the appointment of André Anders, Ph.D., as the Journal's new Editor-in-Chief beginning July 1, 2014. Having served as an Associate Editor since 2009, Dr. Anders has a record of dedication to the journal and brings a wealth of research leadership and editorial oversight to this new role.
"I am honored to have been selected to serve as the next Editor-in-Chief of the premier journal publishing full-length articles in applied physics. The prospect of carrying on Journal of Applied Physics' rich tradition and playing an instrumental part in guiding the Journal on its future course are extremely exciting. I look forward to working closely with the editorial board and publisher in fulfilling the Journal's mission to deliver the highest quality, peer-reviewed research essential for scientists in the evolving field of applied physics," commented Dr. Anders.
After earning his Ph.D. in physics at Humboldt University Berlin, Germany in 1987, Dr. Anders' impressive career began with appointments as Staff Scientist at the Central Institute for Electron Physics (The Academy of Sciences) in (East) Berlin, Germany, and the Max Planck Institute for Plasma Physics in Garching, Germany. He joined Lawrence Berkeley National Laboratory (LBNL) in Berkeley, California, in 1992, where he is currently a Senior Scientist and Leader of the Applications Group.
Throughout his career, Dr. Anders has been the recipient of numerous prestigious awards, including the Walter Dyke Award, the highest award of the International Symposia of Electrical Discharges and Insulation in Vacuum (2014); the Mentor Award of the Society of Vacuum Coaters (2011); the IEEE Merit Award of the IEEE Nuclear and Plasma Sciences Society (2010); the Chatterton Award (1994); the R&D 100 Award for the development of the constricted plasma source (1997); and the R&D 100 Award for developing pulsed filtered arc technology for deposition of ultrathin films of diamond-like carbon on read-write heads for computer hard disks (2009).
A prolific contributor to the literature, Dr. Anders has published more than 300 peer-reviewed journal articles and has three books to his credit. He is an active member of several conference program committees and is a Fellow of several professional societies.
"We look forward to André's taking on the Editor-in-Chief role and to the leadership and vision he will bring to the Journal," noted John Haynes, CEO of AIP Publishing. "We would also like to pay tribute to the long and distinguished service of the current Editor-in-Chief, Dr. James Viccaro, who led the Journal during the last 14 years and oversaw its successful transition from a print to an agile online publication."
About the Journal of Applied Physics
Published since 1931, this influential international journal publishes significant new experimental and theoretical results of applied physics research. Topics covered are diverse, reflecting the most current applied physics research, and include areas of particular emerging interest. It is the most highly cited journal in Applied Physics publishing full-length articles with over 136,000 citations (Thomson Reuters 2013). jap.aip.org
About AIP Publishing
AIP Publishing LLC provides the global physical science community with a comprehensive collection of highly cited peer reviewed scientific information. Accessed by researchers at nearly 4,000 institutions worldwide, AIP Publishing's portfolio of 17 journals includes prestigious titles such as Applied Physics Letters, Journal of Applied Physics, and The Journal of Chemical Physics, and the AIP Conference Proceedings series. AIP Publishing also publishes on behalf of several of AIP's Member Societies and other publishing partners. publishing.aip.org