Callahan has established a model to achieve symmetry in the fuel that powers inertial fusion — a vital step to reaching net gain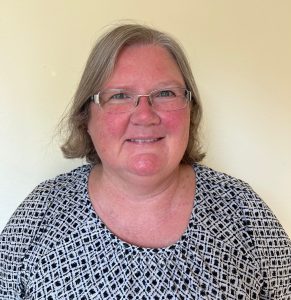 MELVILLE, N.Y., Oct. 25, 2023 — Physics of Plasmas has bestowed the 2023 Ronald C. Davidson Award for Plasma Physics to Debra Callahan for her paper, "Exploring the limits of case-to-capsule ratio, pulse length, and picket energy for symmetric hohlraum drive on the National Ignition Facility Laser."
The annual award of $5,000 is presented in collaboration with the American Physical Society's Division of Plasma Physics to recognize outstanding plasma physics research by a Physics of Plasmas author.
"This paper presented an empirical model and tool for the key design parameters needed to optimize NIF implosion symmetry. The model, now known as the 'Debbie P2-model,' became a key part of the 'HYBRID' strategy leading to a burning plasma and ignition at the National Ignition Facility," said Michael Mauel, editor-in-chief of Physics of Plasmas. "I am absolutely delighted to see Debbie Callahan presented with the Ronald C. Davidson Award for her insightful paper and also for her inspiring leadership in the field."
An immensely powerful process that occurs in the cores of stars, fusion involves two nuclei merging to form a single, heavier nucleus. The sheer amount of energy released during fusion has long made it the subject of experiments seeking to replicate, control, and capture the process in a laboratory setting. It's a quest to which Callahan has dedicated her entire career.
"I spent 35 years at the Lawrence Livermore National Laboratory, starting as a graduate student there and getting my PhD from the University of California, Davis in 1993," said Callahan. "I participated in experiments with their National Ignition Facility (NIF) laser since its inception in 2009. In September 2021, we achieved our goal of igniting a fusion target in the laboratory, and in December 2022 we achieved net gain."
In the parlance of nuclear fusion, net gain means the experiment produced more energy than it took to initiate. It was a historic step, hailed as a monumental achievement in the quest for sustainable energy alternatives. But getting there was enormously complicated.
To replicate a furnace that powers the stars, scientists use powerful lasers to greatly compress a small sphere of fuel, which in turn generates the extraordinarily high temperatures and densities necessary for fusion to occur. That tiny sphere of fuel, only a little more than 1mm in diameter, is key to the entire process. That's where Callahan comes in.
"The fuel has to be compressed in a very symmetrical way — so it stays a sphere," said Callahan. "One of the challenges at NIF was designing the target in such a way that this symmetry was possible. Our paper describes a simple model that was able to predict the symmetry, given input conditions, and the work became part of the target design strategy that ended up getting us to ignition and net gain."
Callahan's love of physics goes all the way back to her high school days, when she discovered her twin fascinations with science and math could be funneled into a third field that combined the two. Initially, she intended to be a physics teacher — but in college, she learned more about physics research and was encouraged by her professors to go to graduate school for physics.
Callahan said she was honored to have received the Ronald C. Davidson Award.
"This paper has the work that I'm most proud of (at least, so far!)," she said. "Ron Davidson was such a giant in our field. I think he'd be very excited to see the results we have achieved on NIF."
As for what's next, last year Callahan left LLNL after 35 years to move to a nuclear fusion startup company, Focused Energy. The company's goal is to take us from the 'A' of achieving net gain at the NIF to the 'B' of developing a fusion power plant that provides clean energy. She is currently working on a related but different fusion approach she described as well suited to inertial fusion energy power plants.
"This is the next grand challenge for fusion," she said.
This year's award selection committee, consisting of Physics of Plasmas Editorial Advisory Board Members William Daughton (Los Alamos National Laboratory), Vinícius Duarte (Princeton Plasma Physics Laboratory), Eric Esarey (Lawrence Berkeley National Laboratory), and Omar Hurricane (Lawrence Livermore National Laboratory) — as well as, representing the APS-DPP, Ian Hutchinson (Massachusetts Institute of Technology and last year's winner) — reviewed the top-cited and top-viewed papers and nominated several authors from across the topical focus areas of Physics of Plasmas. The final selection was made by vote of the full Editorial Advisory Board.
The 2023 Ronald C. Davidson Award for Plasma Physics will be presented to Callahan during the 65th Annual Meeting of the APS Division of Plasma Physics.
###
ABOUT THE RONALD C. DAVIDSON AWARD FOR PLASMA PHYSICS
The award is provided by AIP Publishing in honor of Ronald Davidson's exceptional contributions as Editor-in-Chief of Physics of Plasmas for 25 years. The annual award of $5,000 is presented in collaboration with the American Physical Society's Division of Plasma Physics and recognizes outstanding plasma physics research by a Physics of Plasmas author.
ABOUT AIP PUBLISHING
AIP Publishing's mission is to advance, promote, and serve the physical sciences for the benefit of humanity by breaking barriers to open, equitable research communication and empowering researchers to accelerate global progress. AIP Publishing is a wholly owned not-for-profit subsidiary of the American Institute of Physics (AIP) and supports the charitable, scientific, and educational purposes of AIP through scholarly publishing activities on its behalf and on behalf of our publishing partners.
###
For more information:
AIP Media
+1 301-209-3090
media@aip.org