Melville, NY, April 2, 2019 — Carlos F.M. Coimbra, the new Editor-in-Chief of the Journal of Renewable and Sustainable Energy (JRSE), shared some thoughts on how the journal can galvanize the renewable energy community at a time when the need for sustainable solutions is increasingly urgent.
Professor Coimbra serves as the Chairman of the Department of Mechanical and Aerospace Engineering Jacobs School of Engineering at the University of California at San Diego. In addition, he is also a Co-Director of UCSD's Center of Excellence in Renewable Resourcing and Integration, where his lab focuses on developing research methods, instruments, and new solutions for the integration of weather-dependent, carbon-free, and renewable energy resources into the power grid.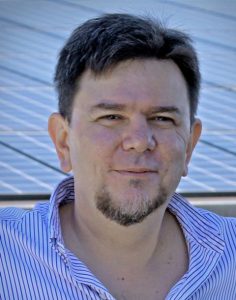 AIPP: Before we discuss your vision and plans for JRSE, would you tell us about how you became interested and involved in energy issues?
CC:  I was originally trained as thermal engineer and as a fluid dynamicist, but I've always had a fascination with energy issues that started in my youth. My undergraduate capstone design project was on solar energy, and I spent many years doing research after that in other subjects. At one point in the early 2000s, the moment was right, and I decided to return to solar energy research. At that time, I identified solar forecasting, or the prediction of solar irradiance at the ground level, as a technological bottleneck for widespread utilization of solar technologies, and was able to make pioneering contributions to the field early on. I also got involved with the difficult problem of integrating very large-scale power plants to the grid in a sustainable way, and am very proud to have seen the research developed by my team at the University of California translated into clean energy access for hundreds of thousands of people in the state and beyond.
AIPP: With the release of more and more ominous reports on climate change, it's clear that JRSE has a compelling call to action. How do you envision the journal stepping up to the challenge?
 CC:  Our vision is for JRSE to become a major player in the renewable energy community by providing broad coverage of research that has the potential to decarbonize important sectors of our global societies. This means extending JRSE's scope and achieving leadership positions in the disciplines of energy meteorology and climatology as they relate to the decarbonization of the power grid. We also intend to increase our presence in the rapidly growing field of renewable energy integration. Topics of critical interest will include all the relevant weather and climate effects on weather-dependent renewable power sources like wind and solar, but we're not going to limit the scope to those aspects only. Another focus area will be research in the modernization of power grids (including micro-grids), especially on relevant decarbonization policies that are now, more than ever, urgent.
Decarbonization is a global problem that requires global solutions. JRSE already attracts research and readership from communities around the world where there is a real chance for leapfrogging carbon-intensive technologies by deployment of cleaner alternatives. We definitely hope to enlarge its international footprint.
Over the past several months, I've worked closely with Journal Manager Dr. Jessica Hoy and the AIP Publishing team to outline a strategic action plan that we set in motion. It's already working very well. Of course, there will be adjustments as we go, but we have a clear path to follow.
AIPP:  What are some the plan's top priorities?
CC: We've adjusted the journal's scope to reflect the importance and urgency of renewable energy integration and energy meteorology in the big scheme of things. An orchestrated effort to make the community aware of our new editorial goals has begun, including developing strategies to rebrand JRSE as the place to go for high quality research on weather dependent renewable energy. Attracting interest from a global network of researchers also requires planning and refocusing, and so that's high on our agenda.
Another important objective that we've undertaken is streamlining the submission workflow and help authors publish their best work in an expedited way. We want to create more uniformity in the process so to produce readable and impactful contributions across all areas of interest. We've already incorporated many changes designed to expedite the time to response and to make the editorial process more uniform across the submissions. We also are asking authors to think about the concrete contributions of their work and articulate it during the submission process.
Looking ahead, we may want to consider open access for JRSE. As I mentioned, there's an urgent need to act globally in order to reverse the effects of centuries of carbon-intensive industries. Researchers in developing countries, and those in remote communities where there are no universities or who work in industries that do not have access to research behind pay-walls need better access to experimental data, models, and other information to accelerate progress. I think students at all levels will become more interested in contributing if we make it easier for them to access high-quality research. While I believe open access to renewable and sustainable energy research could have a measurable impact on the planet's health, there are factors to consider (and costs to cover) first.
In a short time we've been able to make many critical changes that are needed to realize our vision for the journal.
AIPP:  You are clearly very busy with your faculty and research roles. Why did you take on the role of JRSE's Editor in Chief?
CC: Being associated with AIP Publishing was one of the big draws for me to take on JRSE. I have always noted the quality of AIP Publishing's journals and people, and I am glad to say that my past impressions have not only been confirmed, but have been far surpassed. Delivering on our ambitious vision requires a highly engaged, energetic, and motivated team – at AIP Publishing, JRSE has such a team in place, which makes it all possible.
After being involved with scientific publishing for a while, I began to see what works and what doesn't. In my experience, co-authoring and publishing books was instrumental in developing a method for clearly expressing difficult concepts to a wide readership. Along the way, I developed a vision for how things should be done to benefit of readers and the discipline areas. Becoming an Editor-in-Chief is a good opportunity to put these ideas to work.
To be effective, it's important to be passionate about your vision and be ready to connect throughout the community. The job requires management and planning skills and a willingness to focus considerable energy and time to inspire others to work towards a common goal. Serving as an associate editor for a few different journals, participating actively in your research community, and taking leadership roles in academia or national labs were all very good training steps for me.
AIPP:  How can researchers increase their chances of publication? What makes a good article? Any common mistakes or pet peeves that you run across often in submissions?
CC: As I already mentioned, our approach is ask investigators to articulate the rationale and impact of the research work. Why should it be published? If you cannot answer that question, your paper is not ready for submission. We've added a Significance Statement to the JRSE submission process to help authors make the case for their papers. The second factor is to polish your manuscript over and over again. I always tell my graduate students that by the time you think the paper is ready for submission your job is only halfway done. Polishing the language, the figures, making sure that the arguments are well founded and that the results are meaningful, etc. takes much more effort than to put together a rough draft of a paper. A good article starts with a good question, and requires good methodology to articulate answers. Figures, and especially figure captions, should be very well thought out as they need to contain high density of information and also be able to immediately draw the reader into the paper. Also, a paper is more impactful if it includes a number of results that are portable across other disciplines. We all rely on previous contributions made by others, but there must be a serious attempt to go beyond what has been done before in a transformational way. Putting together a well-written article is something that requires artistic sense too. There is a rhythm in the sentences, there are images that complement thoughts, and there are messages that one would wish to be passed on to others in the field. This needs to be done clearly and succinctly. Publications that don't hold to these standards are unlikely to generate impact on the readership.
AIPP: What advice would you give to early career researchers?
CC: My advice for early career researchers is to find topics that have both regional and global impact, and to bring creativity and your own mixture of novel methods to solve outstanding problems. Integrating weather-driven energy technologies into a modern power grid is a big scientific and technological challenge. We could use all hands on deck.