Researchers can now plot, visualize, compare, and validate spectral data in just a few clicks with this powerful new research tool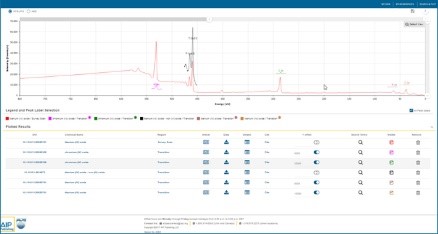 Melville, NY, November, 2017 – AIP Publishing, one of the world's leading publishers in the physical sciences, today with AVS announced the launch of
eSpectra: Surface Science, a new plotting and visualization tool providing access to over 4,000 peer-reviewed spectra from 700 materials, all on one interactive platform. The peer-reviewed XPS, AES, and UPS datasets come from over 600 articles published in Surface Science Spectra, the definitive international journal by the AVS.
eSpectra enables researchers to interpret datasets as easy-to-use visualizations, find peak values, compare data, and collaborate with peers. It also serves as a "shared file cabinet" allowing secure storage, intuitive keyword searching, and tracking and sharing of datasets.
"AIP Publishing is proud to partner with AVS to bring this exciting new platform to life," said Jason Wilde, Chief Publishing Officer of AIP Publishing. "It furthers our joint mission to develop new tools and services that advance scientific research and discoveries. eSpectra enables collaboration by allowing researchers to share and compare their data with their colleagues, collaborators and the community."
"eSpectra is certain to revolutionize spectral analysis," noted Dr. Charles R. "Chip" Eddy, Jr., President of AVS. "Gone are the days where you have to make spectral data comparisons manually. Researchers can now quickly and easily upload, plot, and compare their data to cite-able, peer-reviewed data to better understand and validate their results."
For more information about eSpectra, visit: espectra.aip.org.
About AIP Publishing
AIP Publishing is a wholly owned not-for-profit subsidiary of the American Institute of Physics (AIP). AIP Publishing's mission is to support the charitable, scientific and educational purposes of AIP through scholarly publishing activities in the fields of the physical and related sciences on its own behalf and on behalf of our publishing partners to help them proactively advance their missions.
About AVS
As an interdisciplinary, professional Society, AVS supports networking among academic, industrial, government, and consulting professionals involved in a variety of disciplines – chemistry, physics, biology, mathematics, all engineering disciplines, business, sales, etc. through common interests related to the basic science, technology development, and commercialization of materials, interfaces, and processing area. AVS is a member society of AIP