Staying up to date on specialized topics and new areas of research is challenging at this time of rapid change in the physical sciences. As a result, AIP Publishing conducts a number of programs to help researchers build connections across the global scientific community, accelerate discovery, and make their findings more accessible to broader audiences.
Two recent events at the Chinese Physical Society's (CPS) fall meeting are good examples of how AIP Publishing is helping researchers share their work with editors, reviewers, and the broader scientific community.
Two colleagues from AIP Publishing's U.S. team, Melissa Patterson, Ph.D., Director, Editorial Development, and Luigi Longobardi, Ph.D., Executive Editor, Applied Physics Reviews, attended the CPS conference and participated in the AIP Publishing events. It was a great opportunity for them to deepen their knowledge of the physics community in China and meet current and future authors. They also gave a definitive "thumbs up" to CPS's outdoor vendor exhibits, which provided a welcome break of sunlight and fresh air, and a festive spirit to long conference days spent indoors.
Horizons Lecture Series
This specialized lecture series invites leaders in interdisciplinary areas of the physical sciences to come together with peers to present and discuss their latest research. For the past seven years, AIP Publishing's Beijing office has organized the Horizons lectures at the CPS fall meeting. This year the meeting took place from September 19 – 22, in Zhengzhou, China.
AIP Publishing invited three leading scientists to share their work as part of the 2019 Horizons lectures:
Prof. Wang Zhonglin, the School of Materials Science and Engineering, Georgia Tech, gave a talk on "The Physics of Contact-electrification and its Implication to New Energy Science"
Prof. Jia Chunlin, Ernst-Ruska Centre for Microscopy and Spectroscopy with Electrons, spoke on "Structure and Properties of Oxides and Pico- and Nano-scale — Quantitative HRTEM"
Prof. Duan Xiangfeng, Department of Chemistry and Biochemistry, UCLA, presented on "Van der Waals Integration to Artificial Heterostructures and High Performance Devices"
About 200 CAS members attended the events, which included Q&A discussions after each lecture. All of the attendees were CAS Academicians, a lifelong honor CAS bestows on members who have made significant achievements in their fields, furthering discovery and influencing policy in China and around the world.
All of the talks were delivered in Chinese, but the slide decks for the lectures were in English. Dr. Patterson noted that while she couldn't understand precisely what the speakers were saying, the data spoke for itself, "It was an interesting experience trying to glean results and conclusions from the presentations. There was one talk in particular where they mentioned a technique I used during my graduate studies and I thought 'yes I understand that!'" Dr. Longobardi concurred, "Because science and math are universal languages, I was able to follow the research being presented and ask the lecturer a follow-up question."
AIP Publishing Academy Event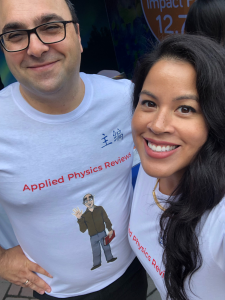 The day before the Horizons lectures began, Dr. Patterson and Dr. Longobardi led an AIP Publishing Academy event for early career researchers attending CPS. They shared useful information and guidance about making the most of the publishing process. More than 100,000 researchers from around the world submitted articles to AIP Publishing in the last 12 months — editors' insights and tips provide advantages that can lead to a greater likelihood of acceptance and high impact.
In his presentation, "What Editors Want: A Guide to Writing Impactful Science Papers," Dr. Longobardi began with the truth that "Great results without effective communication can go unnoticed, editors may pass on the paper, and readers will not cite it." Using his own first published paper as an example of what not to do, he shared easy-to-follow steps on the key elements of an impactful research paper, tips on how to structure it for impact, and insights about what editors are looking for in manuscripts.
Dr. Patterson spoke about what researchers can do to achieve global impact and reach for their papers. "Visibility and Promotion of Your Research" touched on search engines, abstract and indexing services, scholarly collaboration networks, social media channels, university public information officers, conferences, membership organizations, and editorial strategies for post-publication promotion.
AIP Publishing regularly goes "on tour" to meet researchers around the world. Stay tuned for a venue near you!