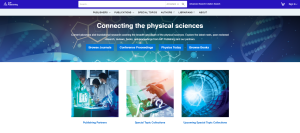 (Melville, NY) April 19, 2023 — AIP Publishing (AIPP) is thrilled to announce the launch of its new digital content platform. Located at pubs.aip.org, the new platform will transform the way AIPP serves researchers and the physical sciences community. 
Replacing Scitation as the online home of the field's most influential research, reviews, news, and analysis, the new platform marks a sea change in how users discover, access, and interact with AIPP's immense and growing portfolio. 
"We're excited to introduce AIP Publishing's new publishing home at pubs.aip.org to the physical sciences community," said Ann Michael, AIP Publishing's Chief Transformation Officer. "We're confident our partners, global researchers, librarians, and scientific societies will benefit from this move, the culmination of a yearlong collaboration with our society partners and Silverchair."  
"The new platform provides a richer, more intuitive experience for all users, as well as the scale, flexibility, efficiency, and discoverability we need to serve the rapidly expanding global physical sciences research communities," she added. 
The new platform features a fresh redesign with a crisp look and feel reflective of AIP and AIPP's new branding. But this is more than just a facelift: Users — from researchers and authors to publishers and institutions — will enjoy improved navigation, accessibility, discoverability, tools, and performance. 
And, importantly, it's going to stay current: The new digital platform will be easier to maintain and upgrade in response to user expectations, publisher requests, market trends, and industry initiatives. 
"The pace of change in this rapidly expanding research community requires AIPP and our publishing partners to be nimble, efficient, and responsive, all while evolving a rich and accessible experience for the researchers we serve," said Michael. 
Check out the brand-new platform at pubs.aip.org! We're excited about it, and we hope you are, too. 
View the Silverchair press release.
### 
About AIP Publishing 
AIP Publishing's mission is to advance, promote, and serve the physical sciences for the benefit of humanity by breaking barriers to open, equitable research communication and empowering researchers to accelerate global progress. AIP Publishing is a wholly owned not-for-profit subsidiary of the American Institute of Physics (AIP) and supports the charitable, scientific, and educational purposes of AIP through scholarly publishing activities on its behalf and on behalf of publishing partners. 
### 
Contact:
Rob Press, Communications Manager, AIP Publishing
rpress@aip.org