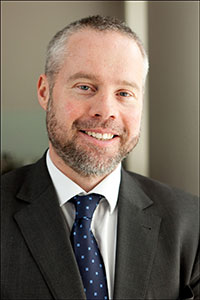 Melville, NY, September 16, 2015 – AIP Publishing Announces Benjamin Eggleton as Editor–in–Chief of APL Photonics.
AIP Publishing, one of the world's leading publishers in the physical sciences, today announced the appointment of Dr. Benjamin Eggleton as Editor-in-Chief of APL Photonics, its new open access, peer-reviewed journal reporting the latest advances in photonics research.
Dr. Eggleton is Professor of Optical Physics in the School of Physics at the University of Sydney and founding Director of the Australian Research Council (ARC) Centre for Ultrahigh Bandwidth Devices for Optical Systems (CUDOS). His pioneering work includes breakthroughs in the nonlinear optics of periodic media, ultrafast planar waveguide nonlinear optics, photonic crystal fibers, optofluidics, and fiber grating-based signal conditioning. Dr. Eggleton's work links fundamental research to applied science spanning physics and engineering.
"It is with great pride that I take on the position of Editor–in–Chief of APL Photonics," commented Dr. Eggleton. "Photonics is the linchpin of a multi-trillion dollar global industry, acting as the catalyst for multidisciplinary breakthroughs that are being translated into real world devices and playing a vital role in all aspects of our daily lives. APL Photonics is being launched at an exciting time for the community and will enable the communication of the most valuable and timely discoveries in all aspects of photonics research."
"Under Dr. Eggleton's leadership, APL Photonics will establish itself as the authoritative, peer-reviewed, rapid publication serving the entire photonics community," stated John Haynes, Chief Executive Officer of AIP Publishing. "Building on the strengths of Applied Physics Letters, one of the most respected and highly cited publications in applied physics, APL Photonics will serve as the dedicated open access home for high quality photonics research."
APL Photonics will be open for manuscript submission in October 2015 and the first articles will be published in Spring 2016.
For more information about APL Photonics, visit: aplphotonics.aip.org.
About AIP Publishing
AIP Publishing, LLC is a wholly owned not-for-profit subsidiary of the American Institute of Physics (AIP). AIP Publishing's mission is to support the charitable, scientific and educational purposes of AIP through scholarly publishing activities in the fields of the physical and related sciences on its own behalf, on behalf of Member Societies of AIP, and on behalf of other publishing partners to help them proactively advance their missions. AIP Publishing's portfolio comprises 19 highly regarded, peer-reviewed journals, including the flagship journals Applied Physics Letters, Journal of Applied Physics, and The Journal of Chemical Physics, in addition to the AIP Conference Proceedings.
About AIP
The American Institute of Physics (AIP) is a federation of scientific societies in the physical sciences, representing scientists, engineers, and educators. AIP offers authoritative information, services, and expertise in physics education and student programs, science communication, government relations, career services for science and engineering professionals, statistical research in physics employment and education, industrial outreach, and history of the physical sciences. AIP publishes Physics Today, the most closely followed magazine of the physical sciences community, and is also home to the Society of Physics Students and the Niels Bohr Library and Archives.