APL Energy: Now Open for Submissions

Focus & Coverage | Editorial Policies | Format & Content | Review Process
Data Availability & Reporting Standards | Editorial Team | Editorial Advisory Board | Subscribe to our Newsletter
Focus & Coverage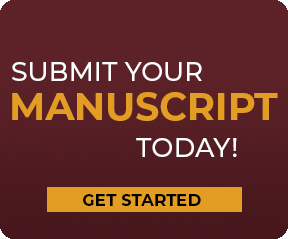 APL Energy welcomes the most significant and exciting scientific developments related to energy and the integration of different energy technologies. It covers diverse areas of energy research and applications: novel materials for energy and energy sources, applications of energy generation, storage, and harvesting, comprising all categories of renewable energy and sustainability. The journal also considers research that addresses circular economy, machine learning, and the environmental impact of energy technologies. The journal welcomes interdisciplinary research from physics, chemistry, materials science, engineering, and related fields that develop energy technology and applications. APL Energy aims at bridging the gap between groundbreaking research and technological innovation.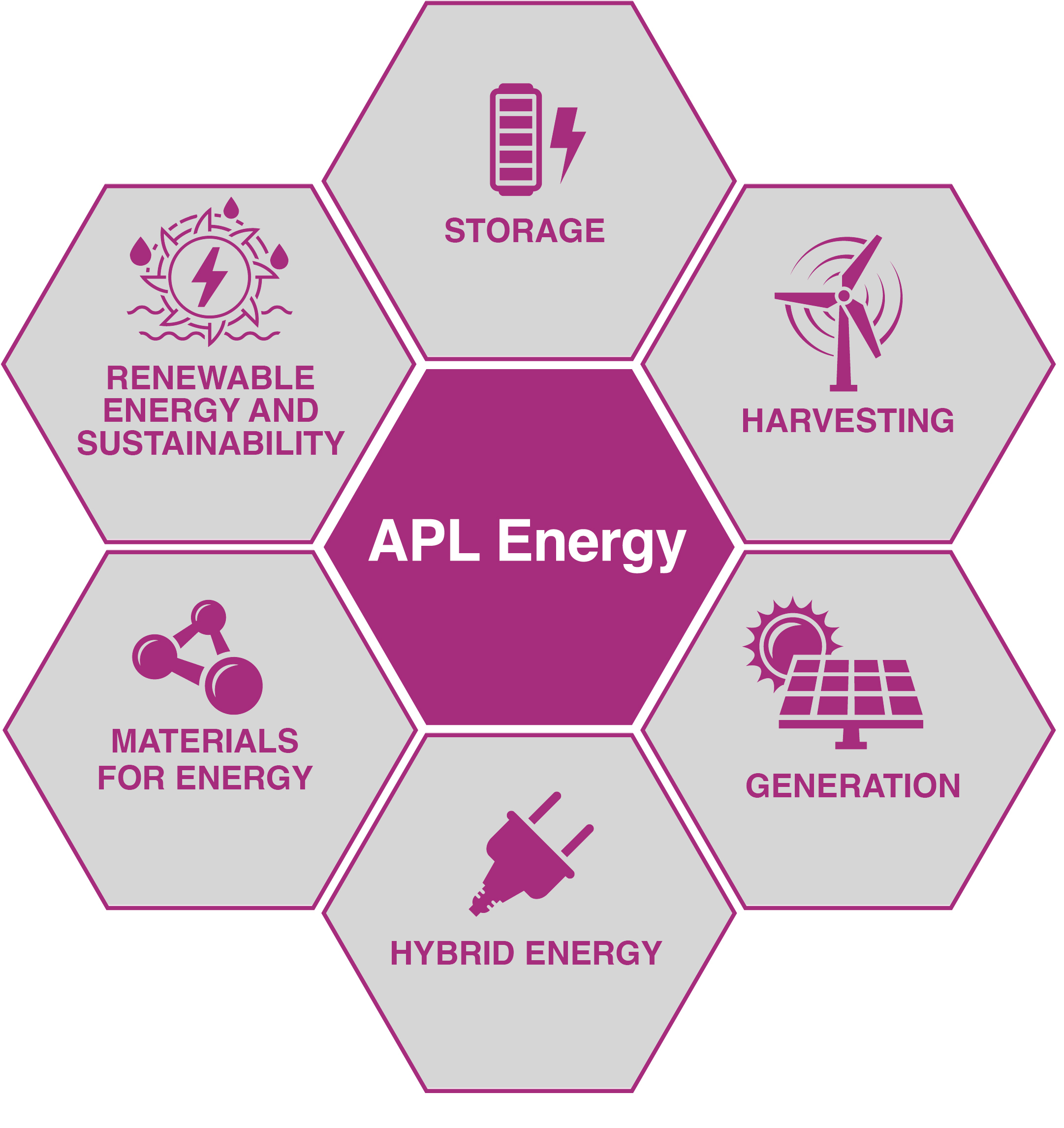 Topics covered in APL Energy include but are not limited to:
Storage: batteries, capacitors, supercapacitors, solar energy storage, thermal energy storage, hydrogen storage, superconducting magnetic energy, renewable heating and cooling
Harvesting: photovoltaics, nanogenerators, electromagnetics, piezoelectrics, piezophototronics, ferroelectrics, triboelectrics, natural resources
Generation: fuel cells and electrolyzers, bioenergy, catalysis, photocatalysis (solar fuels and water splitting), electrocatalysis, photoelectrochemicals, CO2 and other greenhouse gas remediation
Hybrid energy (integration)
Materials for energy: novel materials, materials stability, synthesis and characterization protocols and standards, in-situ and in-operando characterization
Other topics: Stability/Reliability: materials and device stability, lifetime protocols and standards, acceleration analysis for lifespan assessment. Scalability: novel methods for the scaleup of the synthesis and fabrication of materials and devices for energy. Sustainability: efficiency, security, economics, conservation, renewable energy, circular economy, and recyclability
Editorial Policies
Criteria for Publication
APL Energy publishes excellent and groundbreaking research that meets the following criteria:
Novel, original, and timely scientific advances that provide significant new insight and have potential lasting impact on fundamental and applied energy research and technology
Report convincing and rigorous data, methods, and analysis of results that support the presented findings
While the journal accepts submissions that substantially describe novel quantitative models or theories that deepen our understanding of underlying processes, the presented research must be validated with appropriate experimental results.
Language Standard:
It is the authors' responsibility to ensure that manuscripts are written clearly. A manuscript can be rejected if the scientific meaning is unclear due to poor English. Manuscripts that do not meet APL Energy's language standard will be returned to the authors for rewrite before peer review, during the review process and/or if provisionally accepted pending language editing.
Because good science has no value unless it is clearly communicated, AIP Publishing recommends that authors use AIPP Author Services to improve the quality of your paper's written English. AIPP Author Services was developed in line with our commitment to diversity, equity and inclusion for all authors. Using this service ensures that your paper will be free of language deficiencies, so editors and reviewers will be able to fully understand your research during the review process. A native English-speaking subject matter expert of AIP Author Services will correct spelling, grammar and punctuation and verify the use and consistency of technical terms and content in your paper. Note that this is not a requirement or a guarantee of acceptance for review or publication.
Format & Content
APL Energy publishes an original research manuscript in the format of an Article. We also publish Reviews and Perspectives.
Articles contain novel and significant findings relevant to many researchers in the field. The timeliness, relevance of the research, and clarity of presentation are important factors that we consider when evaluating Article submissions.
Although there is no length limit, manuscripts should be as concise as possible and present a clear description of the research. As a guideline, the main text of an Article (excluding title and references) should contain approximately 3500 words. Articles should include sufficient experimental information to allow other researchers to reproduce the reported results. Authors may include supplementary material, including video or other multimedia files. In all cases, the editors decide whether the length of an article is appropriate for the information presented.
Reviews are succinct overviews that provide historical background and detail recent progress in topics covered by the journal's scope (by invitation only). Reviews should be written in a way that enhances or introduces the work to researchers in the field.
Perspectives cover emerging topics or highlight a recent discovery (by invitation only). They provide a forward-looking discussion on the direction of a particular sub-field. Perspectives differ from Reviews in that they can present personal viewpoints from leaders in the field.
Roadmaps describe a strategic plan to be followed for the future development of a specific energy technology. The content of a Roadmap should focus on the status, advances, challenges, and future directions of subtopics within a field from multiple expert perspectives. As a united review, the Roadmap should provide a high-level overview of the field as a whole. If you are interested in submitting a roadmap to APL Energy please contact the editorial team for the appropriate next steps at aplenergy-journalmanager@aip.org.
APL Energy encourages authors to submit high-quality images to be considered for the cover of the issue, video, or other multimedia files to highlight on the journal webpage.
Review Process
The editor-in-chief, aided by the associate editors, is responsible for the content and editorial matters related to APL Energy. To identify papers that meet the journal's publication standards, the editors initially screen all submitted manuscripts. Manuscripts that pass the screening are evaluated by expert referees. Generally, two referees are sought, but decisions on publication may be made with additional reviews if required. Generally, we decide whether to publish a manuscript after one or two rounds of review. We will allow additional reviews if deemed necessary by the editors.
Data Availability & Reporting Standards
AIP Publishing believes that science should be shared as widely as possible, and we actively support sustainable models of access to research that ensure the permanence, discoverability, and reuse of published work. All data, methods, and models should be well documented and described either in the main text of the article or supporting information to provide the research community with enough transparency and detail to effectively replicate the findings and reuse results to further their research.
APL Energy requires that authors make any new data publicly available on a repository of the author's choosing at the time of submission. Any reasons that the material cannot be made available to the readers should be disclosed to the editors.
Editorial Team
Mónica Lira-Cantú
Editor-in-Chief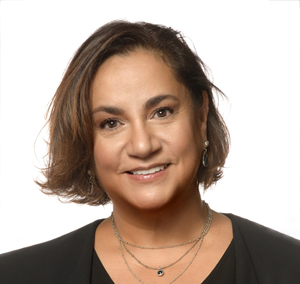 Mónica Lira-Cantú is a Full Professor and Group Leader of the Nanostructured Materials for Photovoltaic Energy Group at the Catalan Institute of Nanoscience and Nanotechnology in Barcelona, Spain. Her research interests are the synthesis and application of nanostructured materials for emerging solar cells like dye-sensitized, hybrid, organic and perovskite solar cells and the integration of different types of energy technologies for self-power electronics and the production of green energy. She has more than 125 publications, including 110 published articles in scientific journals, one book, 10 book chapters, and nine patents. She is a reviewer for more than 30 scientific organizations and more than 50 scientific journals. She worked as a staff chemist for ExxonMobil Research & Engineering (USA), a visiting professor at EPFL (Switzerland) and a visiting scientist at the Center for Advanced Science and Innovation (Japan), Oslo University (Norway), and the Risø DTU National Laboratory for Sustainable Energy (Denmark). She is also a panel member of the ERC Advanced Grant PE11 since 2021 and Fellow of the Royal Society of Chemistry (FRSC) and the Cannon Foundation in Europe.
Yabing Qi
Associate Editor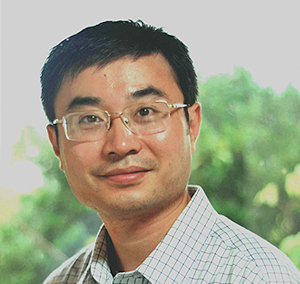 Yabing Qi is Professor and Unit Director of Energy Materials and Surface Sciences Unit at Okinawa Institute of Science and Technology Graduate University (OIST) in Japan. He received his B.S., M.Phil., and Ph.D. from Nanjing University, Hong Kong University of Science and Technology, and UC Berkeley, respectively. Before joining OIST, he was a postdoctoral fellow in Prof. Antoine Kahn's group in Princeton University. His research interests include surface/interface sciences, perovskite solar cells, perovskite light emitting diodes, lithium batteries, and organic electronics (https://groups.oist.jp/emssu). He has published over 180 articles with a current h-index of 66 and over 16000 citations, and is the co-inventor for 13 patents / patent applications. He has been invited to deliver over 100 invited and keynote talks worldwide at international conferences, symposia, workshops, and universities, and has organized over 10 international symposia as the lead organizer or co-organizer. He is an elected Fellow of the Royal Society of Chemistry, Clarivate Highly Cited Researcher, and the recipient of Kao Science Award (https://www.kao-foundation.or.jp/award/science/result/r3.html).
Samira Siahrostami
Associate Editor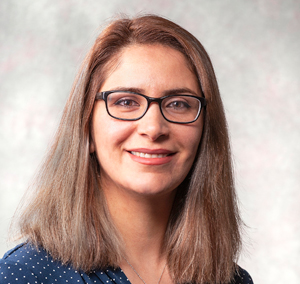 Samira Siahrostami is an Associate Professor in the Department of Chemistry at the University of Calgary, Canada. Prior to that, she worked as a research engineer (2016–2018) and postdoctoral researcher (2014–2016) at Stanford University's Department of Chemical Engineering. She also worked as a postdoctoral researcher at the Technical University of Denmark from 2011 to 2013. Her work focuses on modelling reactions at (electro)catalyst surfaces using computational techniques such as density functional theory. Her ultimate goal is to develop better catalysts for fuel cells, electrolyzers, and batteries by comprehending the kinetics and thermodynamics of reactions occurring at the surface of (electro)catalysts. She has written more than 80 peer-reviewed articles with an h-index of 42 and 10,000 citations to date. She has received numerous invitations to give talks at universities, conferences, and workshops around the world on a variety of topics related to catalysis science and technology. She is a co-inventor of three patents and the recipient of Environmental, Sustainability and Energy Division Horizon Prize: John Jeyes Award from the Royal Society of Chemistry (RSC) in 2021. She was also named as an emerging investigator by the RSC in 2020 and 2021.
Xingbin Yan
Associate Editor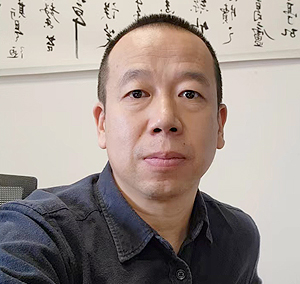 Xingbin Yan is a Professor at School of Materials Science and Engineering, Sun Yat-Sen University in China. He gained his B.S. and Ph.D. in Department of Chemistry, Shan Dong University and Lanzhou Institute of Chemical Physics (LICP), Chinese Academy of Sciences, respectively. After post-doctoral work at Nanyang Technological University (Singapore) and University of Lyon 1 (France), he joined LICP at 2009 and became the director of the Laboratory of Clean Energy Chemistry and Materials at 2012. In 2021, he joined School of Materials Science and Engineering, Sun Yat-Sen University as a full professor. His main research interests focus on the novel electrode materials and electrolytes for electrochemical energy storage devices, especially supercapacitors and new metal-ion batteries. Up to now, he has published more than 270 SCI papers, and these papers have been totally cited over 15000 times with an H-index of 69. He has received the First Prize of Gansu Natural Science Award (2019), the Second Prize of National Technological Invention Award (2016), the First Prize of Gansu Technological Invention Award (2015), the Youth Day Award of Gansu Province (2015) and the Outstanding Tutor Award of Chinese Academy of Sciences (2020).
Editorial Advisory Board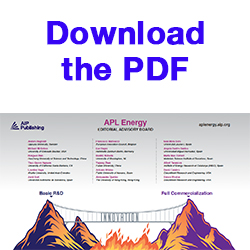 Eva Unger (Helmholtz-Zentrum Berlin, Germany)
David Calabro (ExxonMobil Research and Engineering, USA)
Jordi Sort (Universitat Autònoma de Barcelona, Spain)
Yiqiang Zhan (Fudan University, China)
Antonio Urbina (Public University of Navarra, Spain)
Aleksandra Djurišić (The University of Hong Kong, Hong Kong)
Angela Sastre-Santos (Universidad Miguel Hernadez, Spain)
Marta Mas-Torrent (Materials Science Institute of Barcelona, Spain)
Hongwei Han (Wuhan National Lab for Optoelectronics, Huazhong University of Science and Technology, Wuhan, Hubei, China)
Lourdes Vega (Director, Research and Innovation Center on CO2 and Hydrogen (RICH Center), Khalifa University, United Arab Emirates)
Francesco Matteucci (European Innovation Council, Belgium)
Michael McGehee (University of Colorado Boulder, USA)
Thuc-Quyen Nguyen (University of California, Santa Barbara, USA)
Beatriz Noheda (University of Groningen, The Netherlands)
Ivan Mora-Sero (Universitat Jaume I, Institute of Advanced Materials (INAM), Spain)
Simon Weston (ExxonMobil Research & Engineering, USA)
Anders Hagfeldt (Uppsala University, Sweden)
Albert Tarancon (Catalonia Institute for Energy Research, IREC/ICREA, Spain)